Quantity Surveying Course Online
This course is ideal for quantity surveyors who want to brush up on their skills or learn about the latest methods and approaches in the industry. The course covers a wide range of topics, from the basics of quantity surveying to more advanced concepts such as risk management. Whether you are a beginner or a seasoned professional, this course will give you the knowledge and confidence you need to succeed in your career.
This course is designed for quantity surveyors who want to improve their skills and knowledge in the area of construction costs. The course will cover all aspects of construction costs, from estimating materials and labor costs to project management and contracting. The course will also provide an overview of the legal and regulatory framework governing construction projects. By the end of the course, participants will have a solid understanding of how to manage construction costs effectively.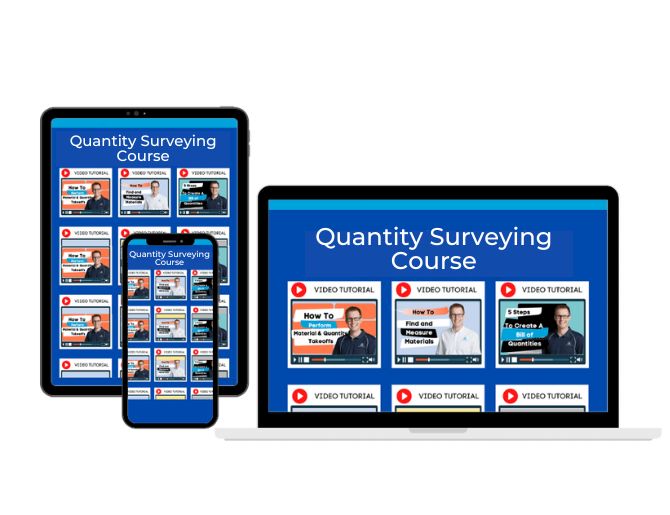 The building and construction industry is predicted to be one of the strongest growth areas of employment over the next five years. There is no better time to start or advance your career in Quantity Surveying. 
Instant access to 10+ mini courses

Access to more than 15 bonus courses

Downloadable templates and worksheets

How to THRIVE in construction
Tanking and Waterproof Membranes
First & Second Fix Construction
Render & Textured Finishes

Carpet & Resilient Finishes

Furniture, Fittings & Equipment
Mechanical, Electrical & Piping
The Entire Quantity Surveying Course
The entire Quantity Surveying Course package to upskill your team of employees or develop you as a freelancing professional

Instant access to over 100 hours of learning material - Access to all above courses and more

LIVE group coaching calls

Over $14,000 worth of learning materials and downloadable resources

Access to secret Facebook group
Get Access to The Starter Kit! Register Now